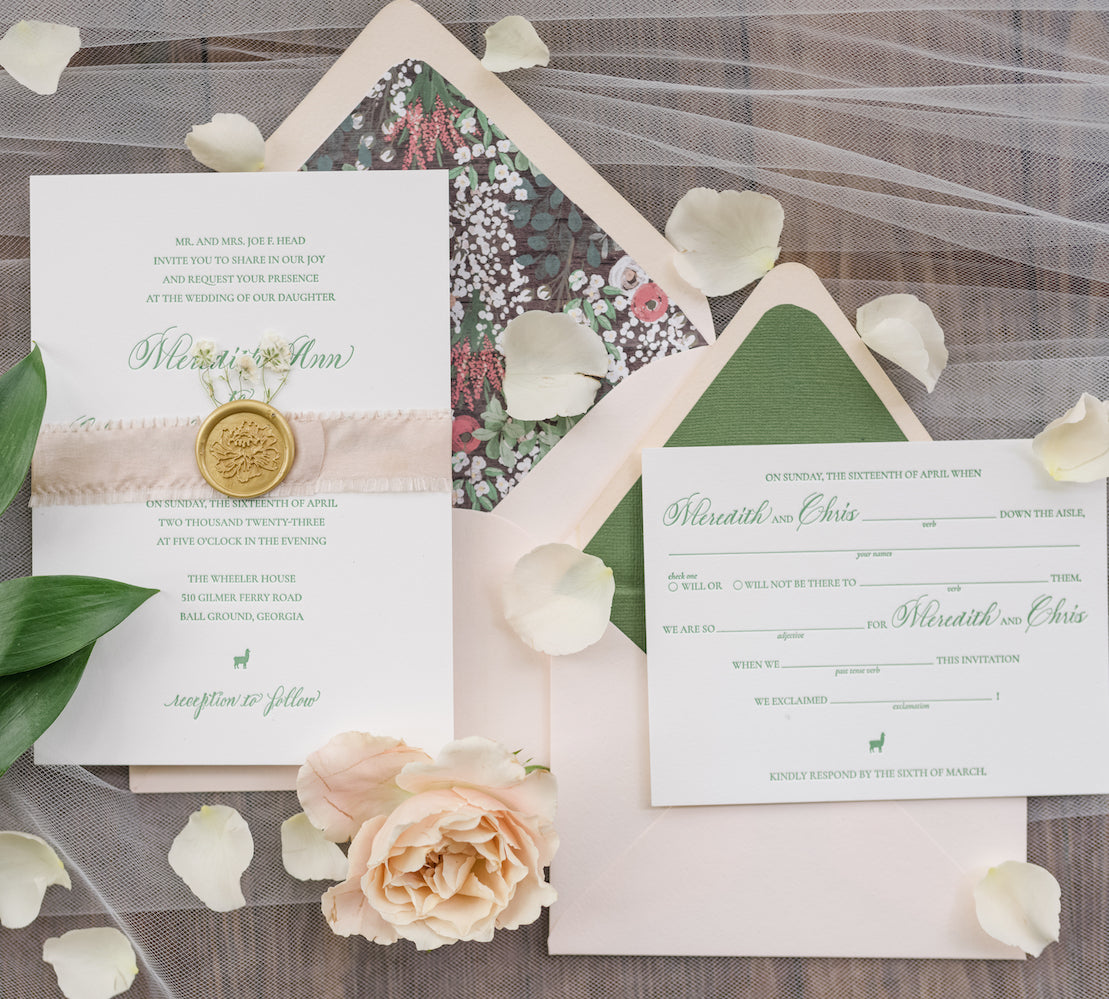 Llama You Forever
Have you ever met someone, and you wished that they were your big sister? She is fun, exciting, well put together, encouraging, and supportive. This is Jenn Newton.
Jenn offered to bring my father and I into her home to see and experience what it is like to letterpress print with her machines. She spent time with me and allowed to touch, feel, explore what paper I decided to choose.
She gave such attention and yet space to make a decision that I believed would fit best for our wedding. Learning her skill and seeing her enthusiasm of printing was such a fond experience.
~Meredith H.
Greenery for a Greene
Last year, I had the pleasure of working with an incredibly passionate individual who shares our vision. As we discussed wax stamp designs and ideas for wedding invitations, I knew that @withlovepaperie was the perfect match. Their creativity and attention to detail brought deep and meaningful ideas to life. If you're searching for someone who is passionate about crafting the perfect wedding invitations, be sure to check out @withlovepaperie. They are sure to exceed your expectations.
~Tia G.
Foil Stamping, Letterpress, Wax Seals, Custom Crest, and Vellum Gate Fold Wrap for a sophisticated and soft invitation suite.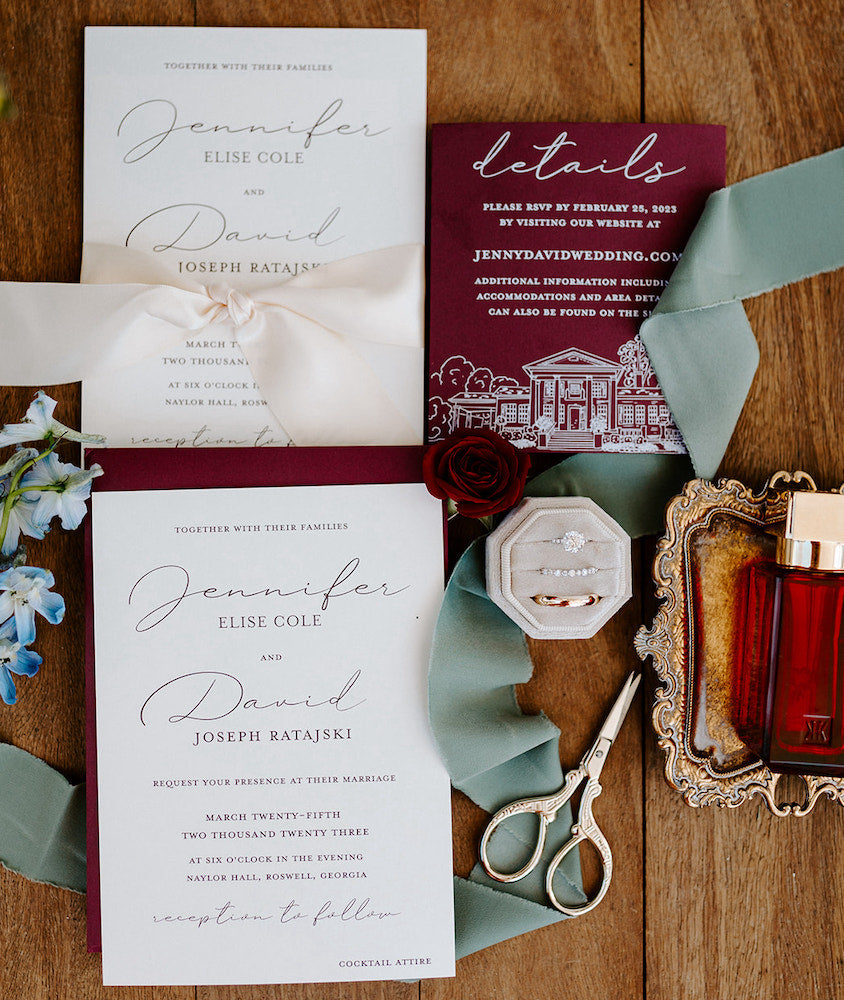 Jewel Tones For Every Season
Jewel tones for a spring wedding? Absolutely!
I approached Jenn to design my invitations and rehearsal dinner invitations. I was a bit behind in ordering invitations but Jenn relieved me of any stress! I spoke with her and she immediately set up a zoom call where we could discuss all colors, designs, fonts, etc. We then met in person so I could see in person the colors and paper textures. In just a few days, I was sent three different proofs with every single detail designed specifically for me. The print process was incredibly quick, and I received my beautiful invitations (hand delivered and stuffed) within a week and a half.  I received so many compliments on how beautiful the invitations were. I will go to Jenn over and over again with any card design I ever need! 
~Jenny C.
Design, digital print, hand-drawn venue, ribbon ties, and printed and lined envelopes.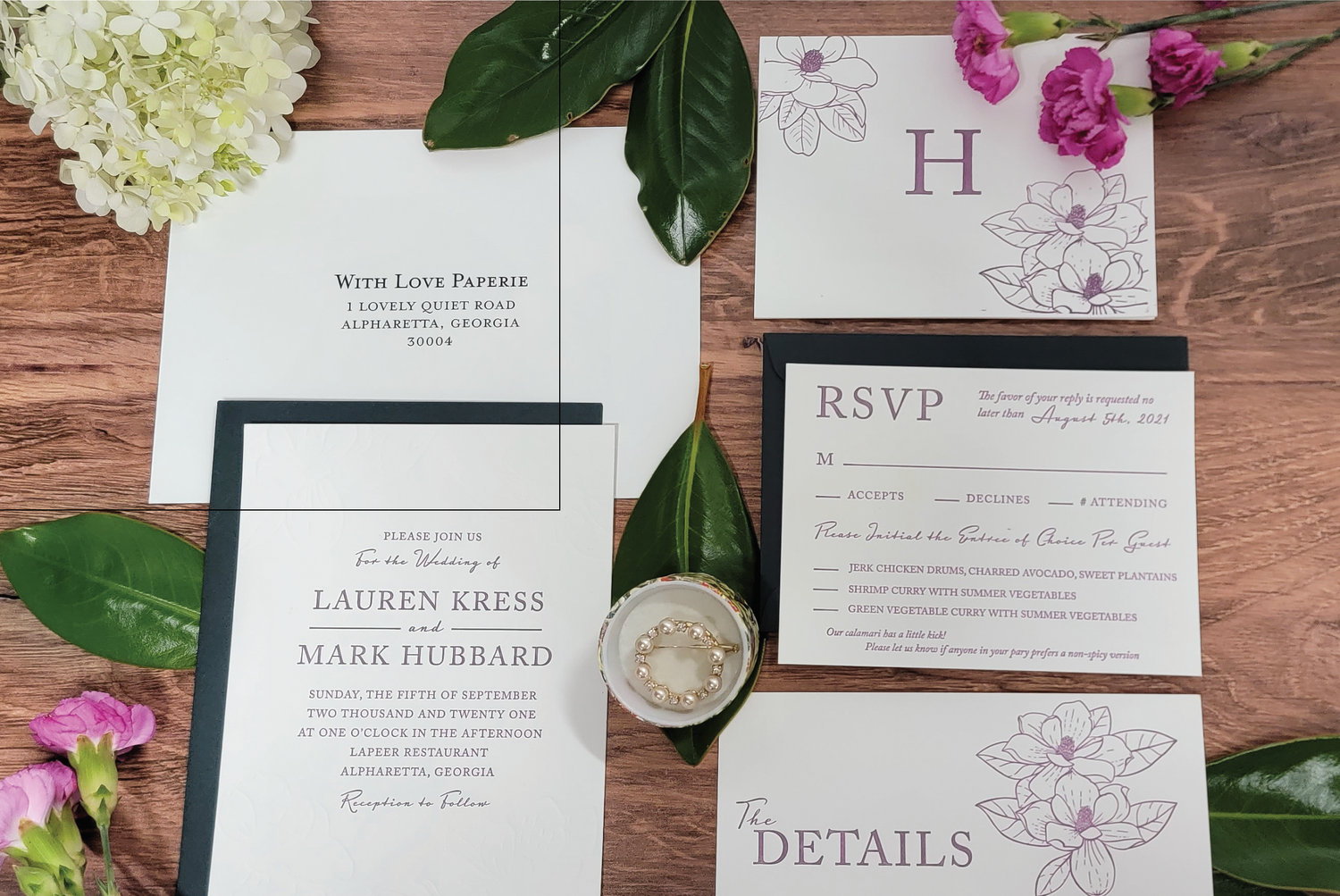 Pretty in Purple
Wedding planning is so wonderful but so very overwhelming with the number of decisions to be made but working with Jenn of With Love Paperie was one of the best and easiest decisions of all!  She was truly an incredible combination: fantastic creativity to develop a design and plan based on my theme and colors, the HONESTY to tell me when part of my idea just won't work well (and why), and the vision to guide the whole project and create the perfect stationary for my occasion.  Jenn's taste is impeccable- I knew I could trust her completely to create the perfect invitation suite and to this day my husband and I both reminisce on how completely perfect our invitations and wedding stationary were!  Whatever your stationary and design needs are - Jenn is the VERY BEST! - Lauren H | Wedding Stationary Client 
Letterpress, Blind Impressions, Bellyband, Envelope Liners, and Thank You Cards - the bride also added wax seals before mailing!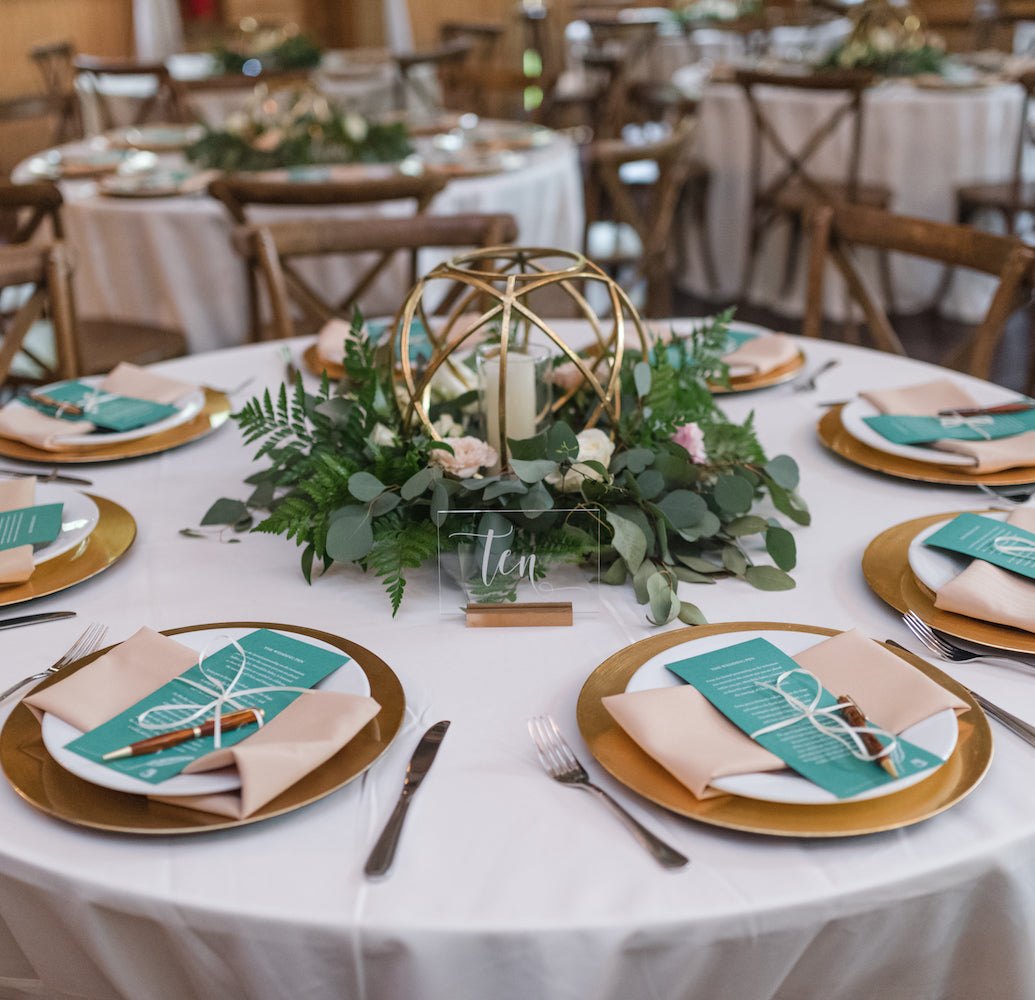 A Favor for the Table
For his daughter's wedding Joe made wooden pens for every guest this card was printed to explain his very special gift.
As father of the bride, I found Jenn to be "spot on" with all the refined touches. Jenn was open, cooperative,  precise, imaginative and put our needs first. 
The finished pieces were top notch, regal printing and stood out as a high end look and feel. JI was impressed with the order, felt it made a striking impact on our guests and complimented our daughter's special day.
I would quickly recommend Jenn for anyone who wishes to capture the genuine cottage printer look and feel. This is not an off-the-shelf or mail order fulfillment internet click, it is a select five star artesan choice. I felt her shop offered a full range of custom boutique services and she delivered the goods on time at a reasonable price.
~Joe H.